On Friday night, Westlife and their fans were in fine vocals at Dublin's Aviva Stadium as the pop supergroup led the crowd in a giant song of their greatest hits – with a few twists.
Tens of thousands of fans were in the mood to party as Nicky Byrne, Shane Filan, Mark Feehily and Kian Egan took the stage to enthusiastic cheers and applause, kicking off the show with their hit . Stars light.
With a catalog spanning nearly 23 years and having performed in front of millions around the world, Westlife certainly knows how to put on a show for their fans and more.
Four costume changes, fireworks, pyrotechnics, laser lights, a live band and giant screens allowed everyone to see the guys up close and personal as they gave each of their hits a go. stage treatment.
The hits started rolling with a lively rendition of Uptown Girl followed by world to uswhich saw the boys running up and down the giant ramp that stretched halfway down the pitch as the public waved their hands wildly.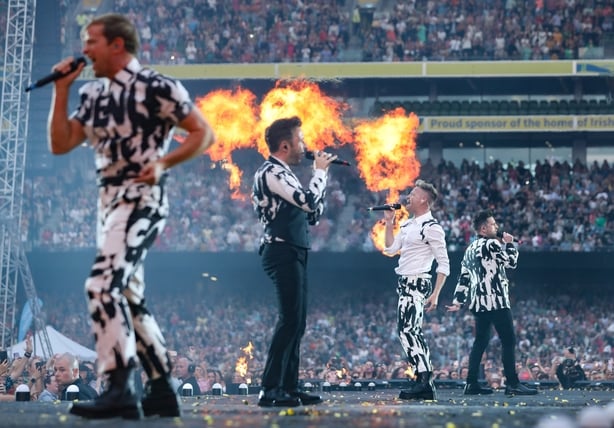 Taking a moment to soak up the jubilant atmosphere, Filan told the crowd: "We're very, very happy to be kicking off our biggest show here in Dublin. It's been amazing. We've had a lot of number ones thanks to you guys.
"It's so good to hear that noise after three years. It's so good to see people hugging and dancing and being together after three years."
Fans were then treated to a Fool again, if I let you go and My lovee followed by Egan telling the crowd that the evening was all about "pure fun".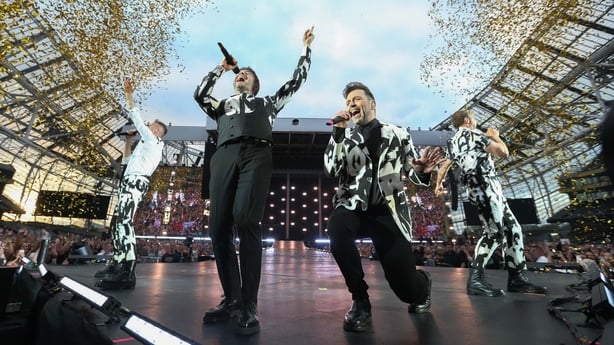 He said: "It's a very special night as we've all been waiting three years for this very special night, Westlife at our home in Dublin Ireland.
"We all know the last three years have been a bit crazy, but put that in the past and make sure tonight is pure fun."
"To say that this group has been together for almost 23 years – here we are selling the Aviva stadium.
After taking out the belt I will never say goodbye the quartet disappeared for a costume change.
They reappeared moments later in a nine-song ABBA medley. All the latest seated latecomers soon joined the giant dance party as Westlife sang some of the Swedish band's biggest hits in their own way, including Give me ! Give me ! Give me ! A man after midnight, take a chance on me, Waterloo and Dancing queen.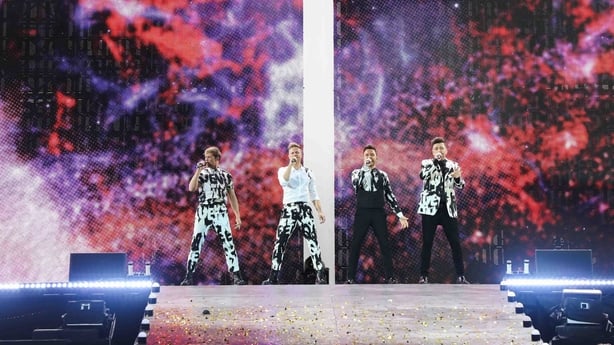 Another costume change got them ready for And now and mandy with an emotional Byrne then telling the crowd: "I see so many flags from around the world which makes us so proud to be Irish standing here at the Aviva Stadium in Dublin. 23 years since we started and the reason why we still do that, the reason we're still here…is you."
As the sun set on a balmy Dublin evening, telephone torches lit up the stadium and the crowd joined Egan, Byrne, Filan and Feehily in singing What makes a manfollowed by a lively rendition of Unbreakable.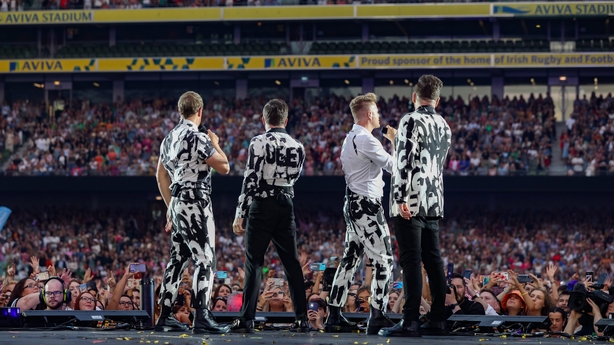 super pop song world to us was next and once again the crowd was dancing happily as Westlife lapped up all the lyrics sung to them.
It was then time for a soaring rendition of fly without wings before a forceful reminder of Good morning my love followed by You lift me up which ended with the band in a group hug draped in the tricolor.
For Westlife fans it was the ultimate trip down memory lane, for pop fans it was pure magic, and for everyone else it was a great night out!